As I have expressed more than once, in a world of buttons & screens, earbuds & trackpads, I tend to favour old-fashioned toys that encourage imaginative play.
A few years ago our family became acquainted with the American Girl line of dolls, clothing and accessories and although they cost a pretty penny, my husband & I began to see the value in it. Call it rationalization if you want, but our little girls get to stay "little" a while longer. In today's age of fast-forward, a little slow-motion can be a really good thing.
Well, you can imagine how thrilled my girls were to hear that there's a new girl in town…and she's Canadian!
Meet the beautifully crafted Maplelea line of dolls. Designed for girls ages 6-12, each of the Maplelea 'Girls' come with her very own story that teaches a bit about the region she comes from. You can also choose a more 'generic' Maplelea 'Friend' that comes with a journal so you can write her story.  My girls chose a Maplelea friend because they wanted a doll that looks more like they do

We received the doll & I have to say that even the packaging was beautiful. The doll came with a journal where you can write the doll's story and then your own. The girls LOVE the journal.
What can I tell you about the doll?  Beautiful workmanship, soft to touch, and her hair is GORGEOUS! I just HAD to take a pic:
Her outfit was super-cute: capri-length tights with a skirt & a top and a pair of adorable silver flats with a little purple maple-leaf on each shoe.  Très Canadien. LOVE.
The girls also chose an outfit for their new doll and it's got Canada written all over it. Can you tell?  The outfit is just great. The hoodie is ridiculously soft, the pants super-sporty & the shoes are fantastic! It also comes with a very cute headband, but I'll admit it's sometimes difficult to get it into place. It's likely supposed to be used as a bandana, but go and explain that to my 6-year old.  She'll have none of it. I won't complain. Since she's finally understood that she needs to keep her own hair out of her eyes, I'll encourage her to practice the same habit on her doll 😉
Speaking of hair: Remember to ONLY use the Maplelea brush or a wig brush for the doll's hair. An ordinary hairbrush as it will have undesirable effects on your doll's hair.  The brush is only about $5 and worth it!
The girls instantly added their new Maplelea friend to our family.  So while it was previously Rebecca & Ruthie, it's now Rebecca, Ruthie & Talia (Oh the joys of naming this new friend!)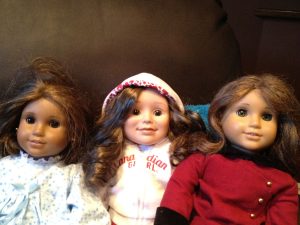 They have been having a grand 'ol time playing with her hair, changing outfits and propping them all up on the couch to watch TV as well as trying to squeeze them all into the little doll bed from IKEA, which held two comfortably but 3 is a stretch…
Which actually brings me to my next point: the accessories. WOW.  The clothes are fab & the accessories are impressive. We are super-impressed with the beds as they are designed to be stackable so you can make them into bunk beds!  Not only fun, but a great space saver, too!  AND…you can choose from a whole variety of bedding styles!
Of course we wondered if the clothes fit both types of dolls, and guess what? They do!  Yay! That means for all you moms of AG dolls, you can still strut some Canadian stuff!  After all, we are PROUD TO BE CANADIAN!!!  Check out the clothing and accessories on the Maplelea website.
Our eldest and our youngest bond together while playing with their dolls and make up scenarios using their imagination as they go.  We love to watch them.  No doubt the love affair with the new friend is slightly larger for the little one but the fact that our eldest is still interested is testimony to the fact that it's worth the investment.  They have their whole lives to be grown-up. Let them be children for just a while longer…
The way we see it, if you'd look at a handheld video game, the investment is about the same as the doll (a little more, in fact). The games are about the cost of outfits (a little more, in fact) but the benefit of having them engage in imaginative play instead of interacting with a video game?  Priceless. They will remember these days when they practiced being nurturing mommies. They are making memories..not only for us, but for themselves.
If you are looking for an extra- special gift for a very special girl, I do recommend a Maplelea doll or shall I say Friend?) As my daughter put it "She's not a doll, Mommy, she's a Friend"

Check out the entire collection at maplelea.com
And for the girl that already has a doll of this size, take a look through the clothing and accessories, You're sure to find something- in almost any price range!
How would you like to WIN a Maplelea Friend? We're giving one away right here (with her brush, of course!)!
*******************
This Giveaway is now CLOSED.  Congratulations to Kim, our winner!!!
*******************
In order to ENTER THE GIVEAWAY you must:
Leave a comment in the comments section of this post answering the following question: "What do you think are the positive effects of school-age girls playing with dolls?"
Correctly enter your email address as the winner will notified via email.
Once you have entered by answering the question above in the comments section, Here's how you can get additional entries:
Follow @montreal_mom on Twitter (leave your Twitter handle in the comments section of this post)
Tweet this giveaway by retweeting this post (1 entry for every RT, you can tweet up to 2 times daily- please leave a link to each tweet in the comments section of this post)
Add montrealmom.com/blog to your RSS Feed (leave note in comments that you have done so, use same email address for both comment & RSS Feed)
Write about this giveaway on your blog/website and leave me a link to your post in the comments section (counts as 4 entries!)
Read any other post on the montrealmom.com blog and comment on it (please leave a comment on this post as to which post you read & commented on)
The giveaway ends at 11:59 PM on Sunday, December 2nd, 2012.  Winner will be chosen at random and will be contacted via email on Monday, December 3rd, 2012. Please make sure your email address is correctly entered in the comments section as the winner will notified via email. Winner must answer a skill-testing question before claiming prize. Open to Canadian residents only.
Wishing you a playful day & a wonderful weekend,
Tanya