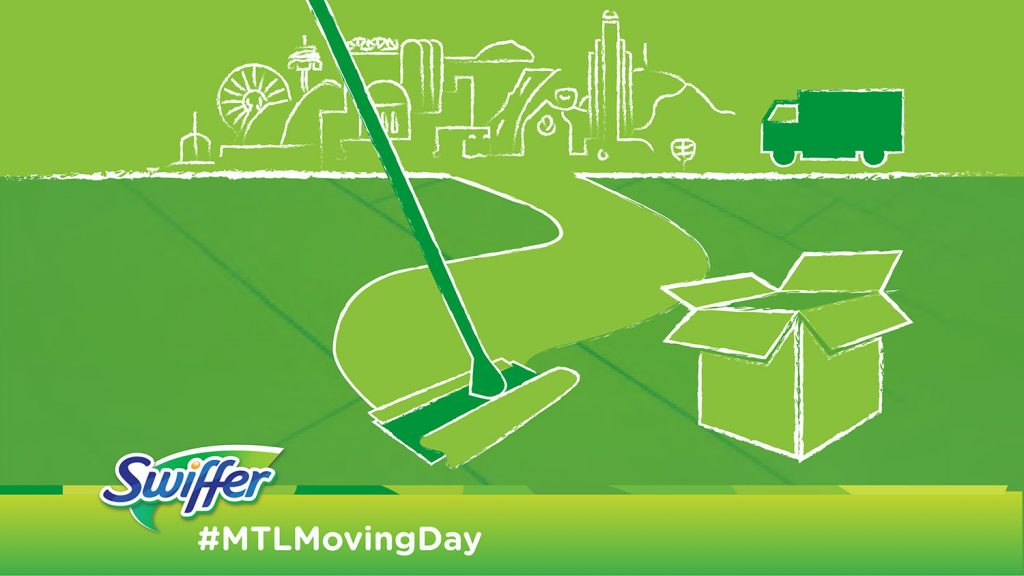 It's hard to believe that school is out, and moving day is literally around the corner.
Moving is considered to be one of life's most stressful events.  While I can't promise to alleviate all the stress that comes with moving, I am proud to be partnering with Swiffer to offer you some great cleaning tips as well as other moving tips that I have gathered over the years. At the end of this post you will also be able to ENTER a GIVEAWAY to Win a fabulous Swiffer Ready-to-Move Kit!
Disclosure: I am being compensated for my time to write about this topic and, as always, the opinions on this blog are my own and can never be bought

Tip#1: Think Small
When hunting down boxes for moving, it's tempting to grab the biggest boxes that will hold A LOT of stuff.  The problem is that those big boxes are incredibly heavy when filled. Small boxes are best, especially when packing books or canned foods that will transfer over. Save larger boxes for lighter items like pillows & stuffed animals.
Tip #2: Label & Log your Load
It's a good idea to number your boxes and indicate what room they belong to.  Then, in a notebook or on your phone, keep a list of what each box contains ( general) e.g. #21 – Kitchen utensils & aprons
That way, if you are looking for kitchen utensils you can reference your list to look for a box number ( instead of reading all of the descriptors on all of the kitchen boxes.
Tip #3: Think in technicolor…TAPE
While indicating which room boxes belong to is essential, using coloured tape to do the same thing is a very easy visual element that makes the redistribution of boxes in your new home much easier.  Let the mover know- all boxes with blue tape go in the bedroom next to the washroom ( you can even put a piece of blue tape on the doorknob of the room where it's going into.  Best way to do this without complicating your life?  When you are packing up your old house, keep a different colour / pattern of packing tape in each room.
Tip #4: Simplify Your Life
If ever there was a time to allow yourself the luxury of takeout foo, the days before & after your move are it!  Keep it simple.  Save your energy for dealing with both the physical and emotional stress that may be associated with your move.
Tip #5: Make a Clean Exit
"Always leave a place cleaner than the way that you found it"
That's what my mother taught me.
When our family leaves hotel rooms, we have the kids pick up the popcorn that inevitably makes its way onto the carpet. Some people may think this is crazy, but it's how I was brought up.  The same applies to moving – Leave your place cleaner than how you found it ( and hope that the owners of the home into which you are moving have done the same! )
This is were Swiffer comes in – Swiffer makes it EASY to clean. If the last think you do before you leave your old home is Swiffer your floors, you will leave feeling good about the way you left your home. You will feel like you have done your beautiful home justice and in turn this will all make you feel good about yourself.
Wondering which Swiffer is best-suited for this job?  I would say that if your floors have not yet been swept clean and there are still crumbs or shreds of cardboard from boxes lying around – Start with a quick pass of your Swiffer Dry.  I would then follow up with either the Swiffer Wet or the Swiffer WetJet.
Tip #6:  Get off to a Fresh Start
Make sure to clean up your new home prior to the movers arriving.  Yes, they will be going in with their shoes, but at least you will know that when they place furniture down, it is on a clean surface.  Also- it is much easier to quickly Swiffer a home that hasn't yet been populated with furniture and stuff than it is to navigate around all of that stuff!
Once again, Swiffer will be your best friend.
DUST: Swiffer Dusters are phenomenal- you can even have the kids help out with this part.  (Mine used to fight over who got to use the Swiffer Duster so we bought additional wands LOL).  Pass the duster along banisters and railings, inside closets that have accumulated dust over time.
COBWEBS:  Swiffer Sweeper Dry will be your best friend, use it on the ceiling and clear the cobwebs up above…..You'll have the reach  and the power!
FLOORS: Again, start off with Swiffer Dry and then move on to Swiffer Wet or Swiffer WetJet. Your new home will look & feel sparkling clean and you will feel in control and ready to unload your belongings into your fresh & clean beautiful new home.
Tip #7- Have a Moving Day Preparedness Kit
As always, a little bit of advanced planning can go a long way. There are items that you will need up until the last moment in your old home and first thing in your new home – These should all form part of your Moving Day Preparedness Kit:
Step stool or stepladder
Soap Pump for the washroom and for kitchen sink
2-3 Toilet paper rolls to use until your stock arrives.
BOUNTY paper towels – You will use them for everything!
Snacks to keep up your energy
Cooler with drinks to stay hydrated
Swiffer Sweeper
Swiffer Sweeper Dry
Swiffer Sweeper Wet Refills or Swiffer WetJet ( and extra pads)
Swiffer Duster(s)

FYI – Printable coupons for Swiffer products available at 

https://www.pgeveryday.ca/offers

 !

Soccer chairs to sit on until your furniture arrives
Pizza Delivery Phone# for a place that delivers to your new neighbourhood
Paper Plates (You won't need napkins if you have paper towels!)
Trash Can
Garbage bags
Rags
Favourite all-purpose cleaner (like Clean) for toilet seats, etc.
Facial Tissues
Allergy & other medication
Don't forget your eyeglasses for indoor use, if you leave the house wearing sunglasses in the morning!
This should be enough to keep you equipped until the rest of your stuff arrives

Tip #8 : Keep an eye-out for the Swiffer Truck on #MTLMoving Day!
Swiffer will be distributing THOUSANDS of Swiffer products to Montreal citizens who are moving on Friday July 1st- #MTLMovingDay.
Interested in winning a Swiffer Ready-to-Move Kit?  It includes:
Approximate value of $75 -Pricing is at the discretion of the retailer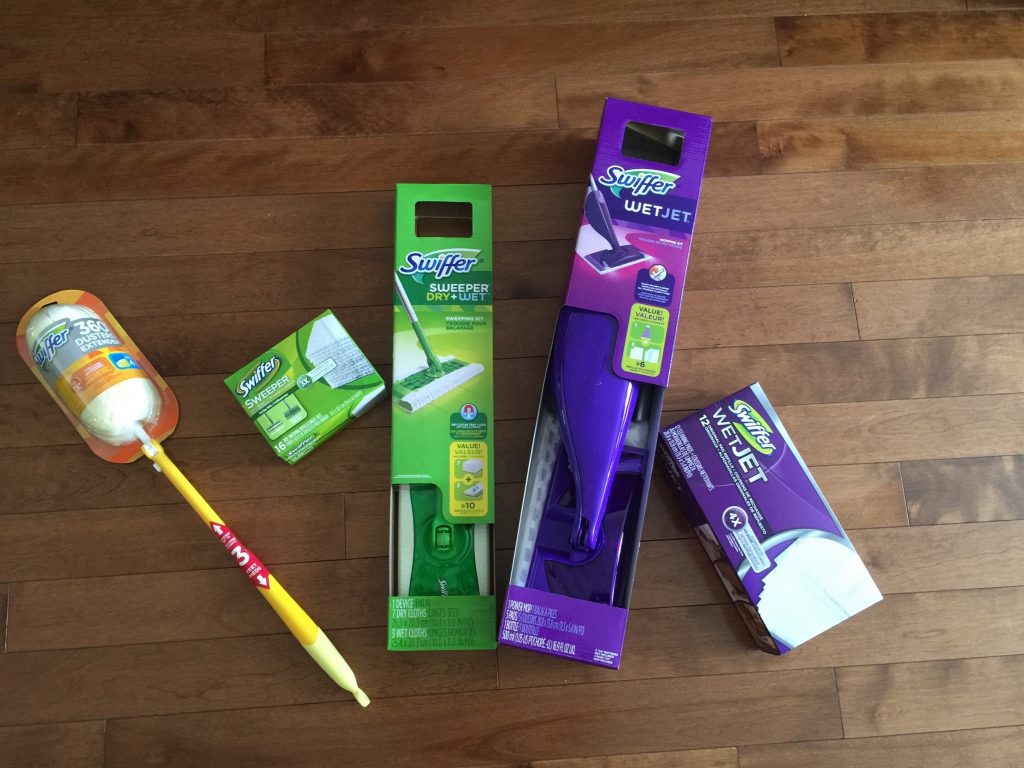 In order to ENTER THE #MTLMovingDay Giveaway you must:
Leave a comment in the comments section of this post answering the following question:" Share a TIP to make #MTLMovingDay a little less stressful.
Correctly enter your email addressas the winner will notified via email.
Add info(at)montrealmom.com to your contact list so that if you win, your notification will not go into your junk mail
Once you have entered by answering the question above in the comments section, Here's how you can get additional entries:
Follow @PGeverydayCA on Twitter (leave your Twitter handle in the comments section of this post
Follow @Swiffer on Twitter (leave your Twitter handle in the comments section of this post)
Follow @montreal_mom on Twitter (leave your Twitter handle in the comments section of this post)
Tweet this giveaway by retweeting this post using #Swiffer #MTLMovingDay (1 entry for every RT, you can tweet up to 2 times daily- please leave a link to each tweet in the comments section of this post)
Add montrealmom.com/blog to your RSS Feed (leave note in comments that you have done so, use same email address for both comment & RSS Feed)
Write about this giveaway on your blog/website and leave me a link to your post in the comments section (counts as 4 entries!)
Read any other post on the montrealmom.com blog and comment on it (please leave a comment on this post as to which post you read & commented on)
The giveaway ends at 11:59 PM on Friday, July 1st, 2016.  Winner will be chosen at random and will be contacted via email on Monday, July 4th , 2016. Please make sure your email address is correctly entered in the comments section as the winner will notified via email. Winner must answer a skill-testing question before claiming prize. Open to Canadian residents only.
Any litigation respecting the conduct or organization of a publicity contest may be submitted to the Régie des alcools, des courses et des jeux for a ruling. Any litigation respecting the awarding of a prize may be submitted to the Régie only for the purpose of helping the parties reach a settlement 
P&G has only provided me with the product that I am using as the prizes for this contest.  The contest is not otherwise endorsed, designed and/or administered by or associated with P&G. By entering this contest you are accepting that, if you win, your contact information will be shared with a P&G PR and shipping agency for the purpose of mailing your prize.  Please allow 4-6 weeks from the contest closure date to receive your prize.
Happy Moving & Good Luck with the Giveaway!
Tanya