As summer approaches, we find ourselves craving outdoor activity. It may be swimming, hiking or bike riding or simply getting out the park with the kids or shooting some hoops.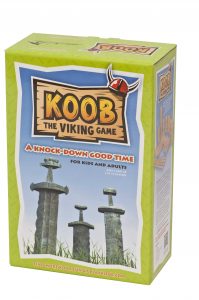 We sometimes find fun & new games to get us active with the kids and last summer I discovered such a game. It's called KOOB – The Viking Game. Orignating in Scandinavia where legend tells us that the Vikings used to play it, it's a great way to get the kids outside and get active.
To read more about KOOB you can check my product review entitled Outdoor Play for the Whole Family.   In a nutshell: Our family loved it.  The game can be tailored to accommodate participants of various ages and it proved to be quite the workout!
If you're looking for a fun and interactive way to get active with family & friends this summer, KOOB is a great way to go.  It's easily transportable to the park, campground, cottage or beach and is fabulous right at home in your own backyard.
Wondering how you can WIN KOOB?
Enter the KOOB GIVEAWAY where one lucky reader will be chosen to WIN a KOOB game set!
*****************************************************
THIS GIVEAWAY IS NOW CLOSED.
Congratulations to our winner Melissa!
Thanks to all who participated!
Tanya
*****************************************************
The giveaway will close on  Sunday, June 10th at 11:59 PM and the winner will be announced on Monday, June 11th . The Giveaway Rules are posted below:
In order to ENTER THE GIVEAWAY you must:
Leave a comment in the comments section of this post answering the following question: "What's your favourite way to get active outdoors as a family?"
Correctly enter your email address as the winner will notified via email.
Once you have entered by answering the question above in the comments section, Here's how you can get additional entries:
Follow @montreal_mom on Twitter (leave your Twitter handle in the comments section of this post)
Follow @TheVikingGame on Twitter (leave your Twitter handle in the comments section of this post)
Tweet this giveaway by retweeting this post (1 entry for every RT, you can tweet up to 2 times daily- please leave a link to each tweet in the comments section of this post)
Add montrealmom.com/blog to your RSS Feed (leave note in comments that you have done so, use same email address for both comment & RSS Feed)
Write about this giveaway on your blog/website and leave me a link to your post in the comments section (counts as 4 entries!)
Read any other post on the montrealmom.com blog and comment on it (please leave a comment on this post as to which post you read & commented on)
The giveaway ends at 11:59 PM on Sunday, June 10th, 2012.  Winner will be chosen at random and will be contacted via email on Monday, June 11th, 2012. Please make sure your email address is correctly entered in the comments section as the winner will notified via email. Winner must answer a skill-testing question before claiming prize. Open to Canadian Residents only.
Wishing you a fabulous week with some opportunity (and good weather) to get outdoors & get active!
Tanya