Disclosure: I am a P&Gmom/mamanP&G. As part of my affiliation with this group I receive products and special access to P&G events and opportunities. The opinions on this blog are my own.
Now that the kids are settled back into school, the notebooks have all been purchased and the locker shelves installed, everyone seems to be settling back into routine.
That said, many teenage girls are thinking about a different type of routine- one that involves self-care and possibly delving into the world of beauty products.
If you're like me, you think that they are beautiful without any makeup, but understand that they are curious and that the teen years are a time when our young ladies can be interested in experimenting with makeup and different skin & hair products.
The advice I have given my own daughter?
(1) Beauty comes from within, a good spirit and excellent nutrition will help you to glow from the inside out.
(2) Create a routine of self care that you can stick to in order to keep yourself feeling and looking your best.
(3) Keep it simple: Use product to make your life easier – not to complicate things – (The Pantene Pro-V Stylers All-in-One Styling Balm is a product that is designed to do just that – Keep it Simple

)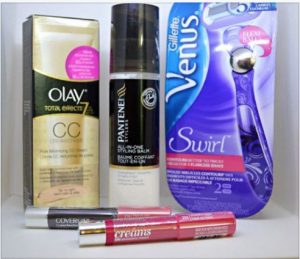 Have you chatted with your teen about beauty & makeup?  What words of wisdom did you offer?  Share your tips & advice with us and you can enter to win a Back-to-School Beauty prize pack (approximately $100 value)
Pantene Pro-V Stylers All-in-One Styling Balm – $8.99*
COVERGIRL Colorlicious Jumbo Gloss Balm (one in Sheers collection, one in Creams Collection) – $7.99 – $9.99*
Olay Total Effects Pore Minimizing CC Cream – $32.99*
Venus Swirl razor – $19.99*
$25 Walmart gift card
(*depends on the retailer)
In order to ENTER THE #BackToSchoolBeauty GIVEAWAY you must:
Leave a comment in the comments section of this post answer the following question: "What tip/piece of advice have you or would you offer a teenage girl who is interested in trying out new beauty products?" 
Correctly enter your email address as the winner will notified via email.
Once you have entered by answering the question above in the comments section, Here's how you can get additional entries:
Follow @PGeverydayCA on Twitter (leave your Twitter handle in the comments section of this post)
Follow @montreal_mom on Twitter (leave your Twitter handle in the comments section of this post)
Tweet this giveaway by retweeting this post using #PGmomGiveaway (1 entry for every RT, you can tweet up to 2 times daily- please leave a link to each tweet in the comments section of this post)
Add montrealmom.com/blog to your RSS Feed (leave note in comments that you have done so, use same email address for both comment & RSS Feed)
Write about this giveaway on your blog/website and leave me a link to your post in the comments section (counts as 4 entries!)
Read any other post on the montrealmom.com blog and comment on it (please leave a comment on this post as to which post you read & commented on)
The giveaway ends at 11:59 PM on Wednesday, Oct 7th, 2015.  Winner will be chosen at random and will be contacted via email on Thursday, Oct 8, 2015. Please make sure your email address is correctly entered in the comments section as the winner will notified via email. Winner must answer a skill-testing question before claiming prize. Open to Canadian residents only.
Any litigation respecting the conduct or organization of a publicity contest may be submitted to the Régie des alcools, des courses et des jeux for a ruling. Any litigation respecting the awarding of a prize may be submitted to the Régie only for the purpose of helping the parties reach a settlement 
P&G has only provided me with the product that I am using as the prizes for this contest.  The contest is not otherwise endorsed, designed and/or administered by or associated with P&G. By entering this contest you are accepting that, if you win, your contact information will be shared with a P&G PR and shipping agency for the purpose of mailing your prize.  Please allow 4-6 weeks from the contest closure date to receive your prize.
This giveaway may appear on other blogs as part of the #PGmom/#mamanPG program.  However, to be fair, you can only win once per giveaway.  If your name is chosen more than once, another winner will be selected. All winners must be from within Canada.
Wishing you a wonderful day where your teen actually takes your advice!
Tanya