I've always believed that people have a need to interact with one another.
I am not disputing the value of time alone, but as human beings, I feel that it is our interaction with those around us that gives meaning to our daily lives. The interaction can come in a variety of ways.
The obvious ones are the ones with whom we share a special relationship, but such interactions can even be with strangers, like sharing a smile with someone else standing in line at the coffee shop when you both observe the same child doing something incredibly cute or a stranger's look of understanding your frustration when you find out your order wasn't taken properly.
The point is that we do seek connection. And sometimes we find it in the most unexpected of places and my unexpected place was Twitter. That may seem odd, as while may of us use social media platforms like Facebook to connect with loved ones we already know, we don't really see Twitter as that 'type' of platform.
Scientists say that the Cheerios Effect is "the way small floating objects attract one another, that it has to do with fluid mechanics, surface tension and buoyancy."
The folks over at Cheerios think it's about a whole lot more

When I was asked if I would be interested in sharing my story on The Cheerios Effect website, this was the first story of connection that came to my mind.
WATCH the adorable video of my story that was created automatically on the #CheeriosEffect website by clicking HERE.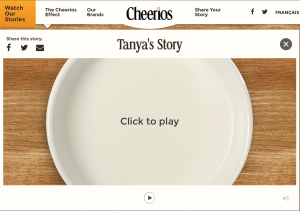 Want the FULL Story?  Here it is:
When I joined Twitter 5 years ago, I never expected to connect with people the way that I did. It was kind of like the "Cheerios Effect" of gravitating towards similar O's, but in the virtual space

I was able to share with fellow moms and if I needed some guidance, I could benefit from the experience of my 'tweeps'.
One night, a fellow blogger known as @AskMamaMoe, reached out to ask for help  if spreading the word about "Shopping From The Heart", a charity event that she was organizing. 
We spoke by phone. I happily helped and attended the event. It was my first "In Real Life" meeting of Twitterfolk (I met her and two other bloggers).  It was also my first "squeee!" 

The 'real-life' connection was incredible. 
A while later. I was asked to conduct a giveaway for a show, but had no idea of how to get started. I decided to "Ask Mama Moe" (now known to me as Julia) :).  She guided me and I was so grateful that I invited her to see the show with me.
We later realized how crazy it was for two strangers who met on Twitter to get into a car together. But I guess we somehow knew that it was all good

Today, Julia is not only a colleague but a dear friend. We have worked together and played together, we have laughed together and cried together.  We understand the challenges of balancing life as a blogger with family and we share our experienced in a way helps us to move forward.
Two peas in a pod start out together but Cheerios gravitate towards one another – like Julia & I.
Two O's in a bowl of Cheerios, gravitating towards each other in the big bowl known as Twitter 

Do you have a story of connection?
Enter the #CheeriosEffect GIVEAWAY !
You'll have a chance to win a $100 gift card from Metro and 5 boxes of Cheerios:
Here's what you have to do to be entered:
SHARE your story in 300 characters or less at cheerioseffect.ca
 The #CheeriosEffect website will automatically create a little video for your story (You do nothing…just watch, wait, enjoy!)
About 24 hours later, you will get an email containing the link to your #CheeriosEffect video story from noreply@cheerioseffect.ca (Enter the address into your address book so that it doesn't go to junk!)
Tweet me the link : @montreal_mom

using the hashtag #CheeriosEffect

and you will be entered.  
Remember that it will take 24 hours to get the link so although the giveaway ends on Nov 17, you should create your #CheeriosEffect video before midnight on November 16th
Please make sure that you are following @montreal_mom so that I can Direct Message you as needed.
The giveaway closes at midnight Monday November 17th and I will be choosing a winner on Tuesday November 18th and Winners will be notified via Twitter.
The giveaway ends at 11:59 PM on Monday, November 17th , 2014.  A winner will be chosen on Tuesday November 18th and will be notified via Twitter.
Winner must answer a skill-testing question before claiming prize. Open to Canadian residents only.
Any litigation respecting the conduct or organization of a publicity contest may be submitted to the Régie des alcools, des courses et des jeux for a ruling. Any litigation respecting the awarding of a prize may be submitted to the Régie only for the purpose of helping the parties reach a settlement 
I can't wait to read your stories and watch your videos!
Wishing you day of feeling connected,
Tanya
As with all sponsored posts, I will only ever share with you products and/or services I believe in. All opinions contained within are my own and cannot be bought