The holidays are upon us and many of us are still frantically shopping, organizing and preparing to make wonderful memories with loved ones.  Holiday stress is a very real thing…but so is holiday magic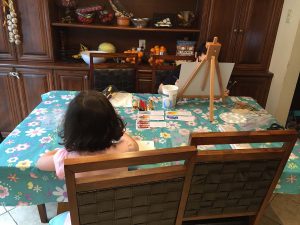 As most of us know- most magical moments are not the ones we plan for – they are the ones that just happen. The magic can be found in the 'words from the mouth of babes' that send us into fits of laughter or the calm in the kitchen when the kids are crafting, or while chatting with a loved one while cleaning up after a a holiday meal.
The thing is, the magic is not just in the moments, but in our ability to notice them – and in order to notice them, we need to be present.
As a mom of four and an entrepreneur (to name just two of my roles), I am forever busy with something, and while I am busy with one thing, my mind is often all-too-aware that there are other responsibilities that I need to be busy with as well. I am grateful for my life and what I have in it to keep me busy, so what I am going to say is not intended as a complaint, but the fact of the matter is that although I don't like to admit it, it's exhausting. It's also difficult to appreciate the 'small moments' when there is so.much.clutter. Although there is physical clutter here I am referring to mental clutter an a whole lot of digital clutter.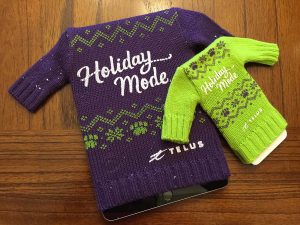 This is why when I am on holidays with my family, I try to be as 'unplugged' as possible. It's not always possible to be 100% unplugged, but I do the best that I can. And it's amazing that when you unplug- from digital, from work, from the outside world – and focus within, the magic just seems to happen. The magic is likely around more often than we think, but our presence is required to notice it

That's the idea behind #HolidayMode, something TELUS started talking about last year. You may find it funny that a telecommunications company would encourage people to let go of their mobile devices for a period of time, but that's exactly the message that TELUS is promoting.
As they put it: "TELUS believes that during the holidays there's no greater connection than the human connection. And while we're always looking at ways to give our customers awesome service all year long, we also recognize that sometimes, the best present is being present with those who matter most."
They go on further to state that "TELUS is passionate about bringing Canadians together over the holidays. We connect millions of people every day, but understand that nothing can replace the human connection."
They've even created cute tools to give your devices a rest and get into #HolidayMode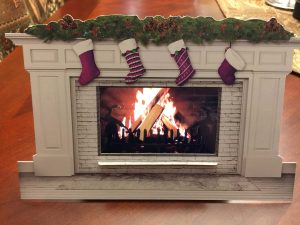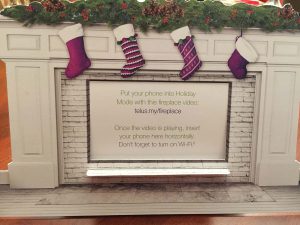 Did you see this #HolidayMode Fireplace?  Check out the Periscope (video) I did on it:
Love it?  You can Print one out from this page: telus.com/expectmore 

How cute are the comfy cozy sweaters (shown above) to give your tech a break this season?  You can get the knitting pattern at telus.com/expectmore  as well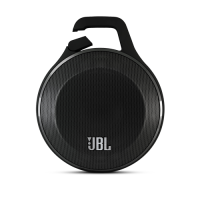 FINALLY – TELUS is also providing me with a FABULOUS JBL CLIP+ Bluetooth Speaker to give away to a reader who gets into #HolidayMode

All you have to do to enter is to share how you are going to #ExpectMore from the holidays and get into #HolidayMode this season.
Note that I am keeping the giveaway open for longer than usual because presumably, if you're in #HolidayMode you won't be busying yourself too much with online giveaway enteries 😉
In order to ENTER THE #ExpectMore in #HolidayMode GIVEAWAY you must:
Leave a comment in the comments section of this post answering the following question: "What are you doing to #ExpectMore from the Holidays this season?"  
Correctly enter your email address as the winner will notified via email.
Add info(at)montrealmom.com to your contact list so that if you win, your notification will not go into your junk mail
Once you have entered by answering the question above in the comments section, Here's how you can get additional entries:
Follow @TELUS on Twitter (leave your Twitter handle in the comments section of this post)
Follow @montreal_mom on Twitter (leave your Twitter handle in the comments section of this post)
Tweet this giveaway by retweeting this post using #HolidayMode & #ExpectMore (1 entry for every RT, you can tweet once daily- please leave a link to each tweet in the comments section of this post)
Share a photo of what you are doing to #ExpectMore in #HolidayMode on instagram, using both hashtags. (1 entry for every instagram post, you can post once daily -please leave a link to each tweet in the comments section of this post)
Add montrealmom.com/blog to your RSS Feed (leave note in comments that you have done so, use same email address for both comment & RSS Feed)
Write about this giveaway on your blog/website and leave me a link to your post in the comments section (counts as 4 entries!)
Read any other post on the montrealmom.com blog and comment on it (please leave a comment on this post as to which post you read & commented on)
The giveaway ends at 11:59 PM on Sunday, January 3rd, 2016.  Winner will be chosen at random and will be contacted via email on Monday, January 4th, 2016. Please make sure your email address is correctly entered in the comments section as the winner will notified via email. Winner must answer a skill-testing question before claiming prize. Open to Canadian residents only.
Any litigation respecting the conduct or organization of a publicity contest may be submitted to the Régie des alcools, des courses et des jeux for a ruling. Any litigation respecting the awarding of a prize may be submitted to the Régie only for the purpose of helping the parties reach a settlement.
This giveaway is in no way sponsored, endorsed or administered by, or associated with, Instagram or Twitter.
Wishing you and your all the best for the Holidays and I hope that you enjoy them in #HolidayMode

Tanya
Disclosure: I am part of Team Telus and from time to time receive products and access to special events. As always, all opinions contained herein are my own and can never be bought