Dreaming of getting away for a week-long adventure?  With your hubby?  Your best girlie? Your Mom?
With National Geographic's Passport to Explore contest, it could be closer to reality than you think!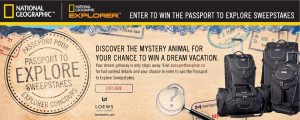 The Grand Prize is a 7-day adventure for 2 to a North American Destination of your choice (anywhere Air Canada flies) with accommodations at Loews Hotels!
Here's all you need to do in order to enter:
Visit a participating National Geographic and National Geographic Explorer luggage retailer
Identify the animal that appears on The Passport to Explore hangtag that can be found on National Geographic and National Geographic Explorer products.
Come back to www.passporttoexplore.ca and submit your personal information along with the name of the mystery animal.
Earn an ADDITIONAL 2 BALLOTS by:
entering the BLOGGER CODE 727
SHARING the contest
Remember that the contest closes March 31st.
Wondering how to find a participating retailer?  Click right here: http://www.passporttoexplore.ca/where-to-buy/
No need to really go out of your way – You'll see that the National Geographic Explorer Luggage collection is available at the retailers you frequent, in your local mall.  ( I happen to be a big fan of the travel stuff at the CAA stores and they tend to carry the National Geographic Explorer brand as well).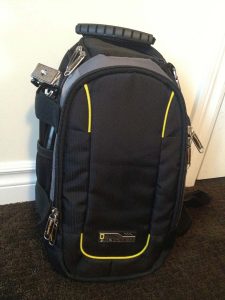 On the subject of National Geographic Explorer Luggage I'd like to add that I purchased a camera bag for my DSLR from the line earlier this year and am THRILLED with it.
It's an 'everything in its place' bag: With spots for lenses, tripod, sunglasses, personal items (passport, wallet) and so much more.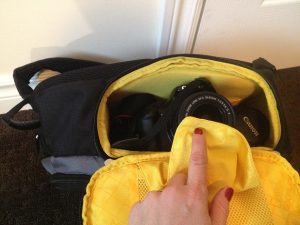 I LOVE the little micro fibre cloth to clean my lenses- it's sewn right into the bag so it doesn't get lost.  The best part? It's about 30% smaller than the competing version of the same bag that I was considering. So while no 'small' bag is going fit the multiple lenses, etc., this compact sling fits it all in 30% less space. That makes mama happy

So …
Step 1: Go check out the collection & find that mystery animal!
Step 2: Enter 3 times by naming the animal, Blogger Code & sharing
Step 3: Spend a little time dreaming about where you'd like to go…
I will leave you to it – Good Luck!
And if you win…I want to hear all about your Passport to Explore Adventure!!!
Official Contest Rules & regulations at http://www.passporttoexplore.ca
Wishing you a wonderful day of dreams & adventure

Tanya
As with all sponsored posts, I will only ever share with you products and/or services I believe in. All opinions contained within are my own and cannot be bought