Just over a month ago, I received a Red Carpet Beauty Bundle full of COVERGIRL makeup and a hairspray from Pantene.  I was really excited because the colours that were sent to me were colours that I could see myself using…except for the lipstick LOL, but I'm willing to try!
Disclosure: I am a P&Gmom/mamanP&G. As part of my affiliation with this group I receive products and special access to P&G events and opportunities. As always, the opinions on this blog are my own and can never be bought 

I was so excited that I started using some of the makeup on the very 1st day.  I was going to work so I chose the matte shadows- no glitter. Here's my instagram pic from that morning: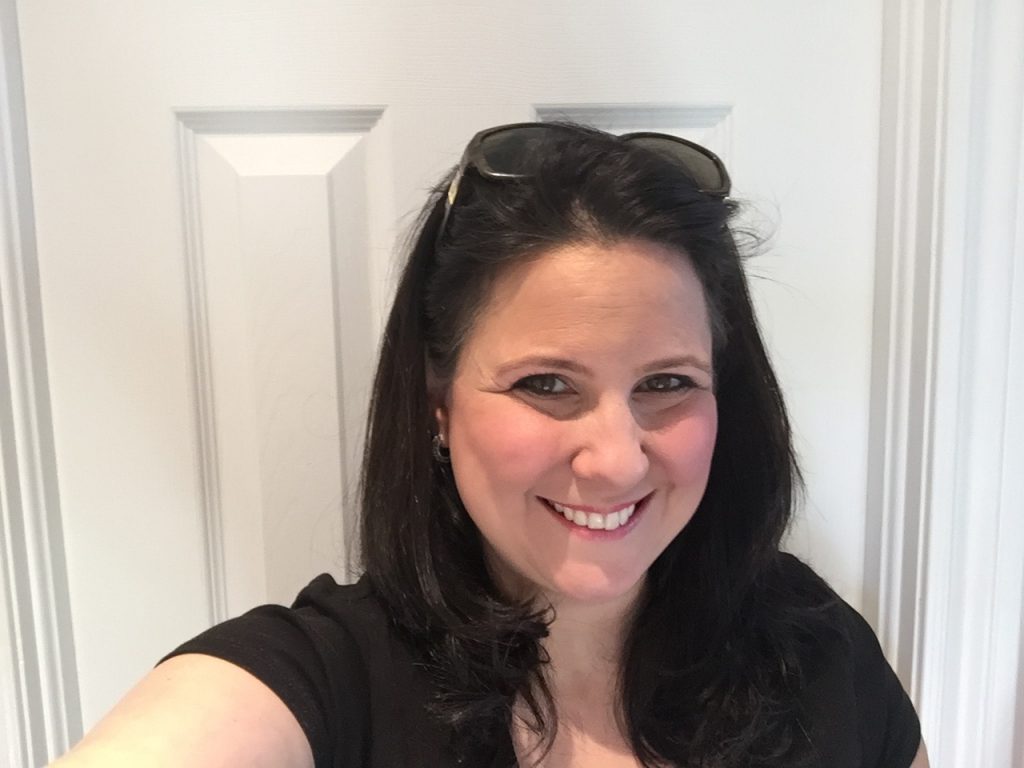 Let's just say that I received compliments when I got to the office

I honestly continued to wear makeup from the package until now.
Last Night, I had a special Date Night with my Hubby so I chose a bit more of a shimmery- glamorous look:
Here's what I chose: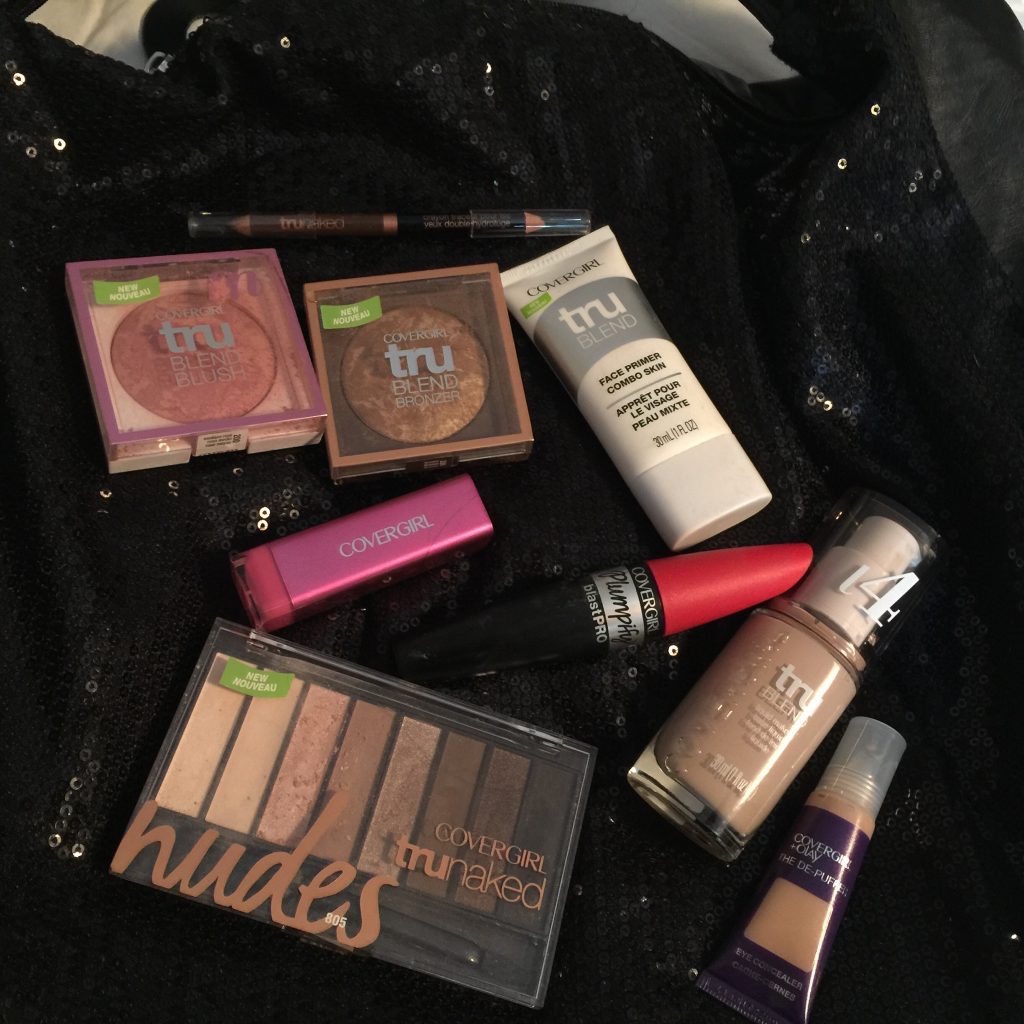 Although we weren't going to a red-carpet event, we were going out to dinner and to the Opening Night of BOOM at the Segal Center, so I figured why not Glam-it-up a little 😉
I started with the primer. I then applied my trusted COVERGIRL Eye Depuffer / Concealer & a bit of powder to seal it (these latter two not part of the pack but part of my daily makeup application!). I then applied the TruBLEND foundation in Classic Beige, (dusted with powder again, to 'seal').  I then applied the Bronzer in Bronze, the Blush in Medium Rose. For my eyes I started with the eyeliner pencil (Mocha), then applied Champagne shadow over my eyelid all the way to the brow line. In the corner of my eyelid, I applied the shadow in Coffee.  I used a brow brush with the Sable to fill in my eyebrows.  I "plumpified" my eyelashes with the Plumpify and finished up with the Covergirl OUTLAST on my lips in Enchantress Blush. ( I actually should have used the Oh Sugar from the kit but I grabbed the wrong lipstick LOL!)
Here's how it came out for my instagram pic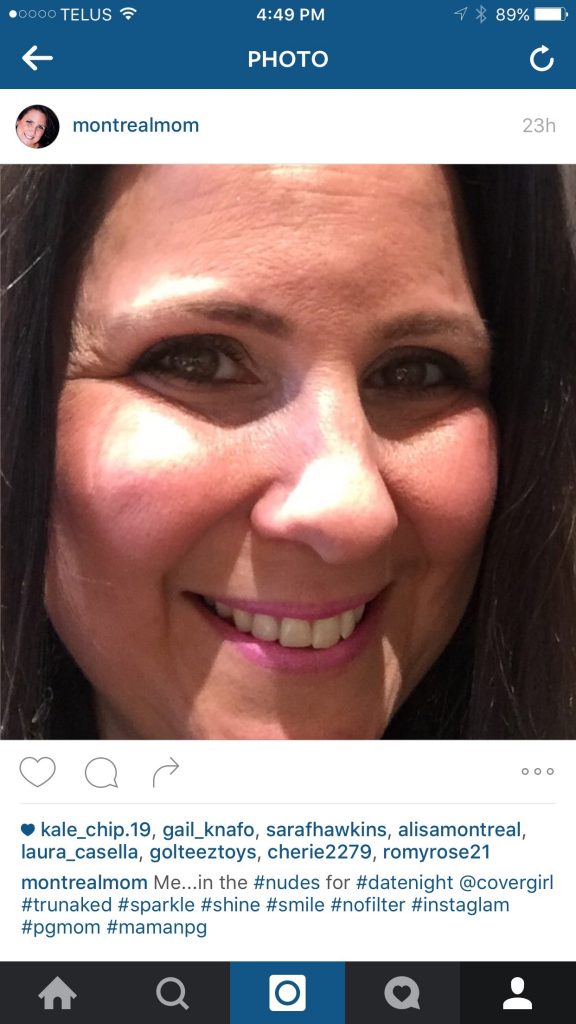 Here's a pic at dinner:
And here's a pic with the fabulous @RickMillerActor after the show: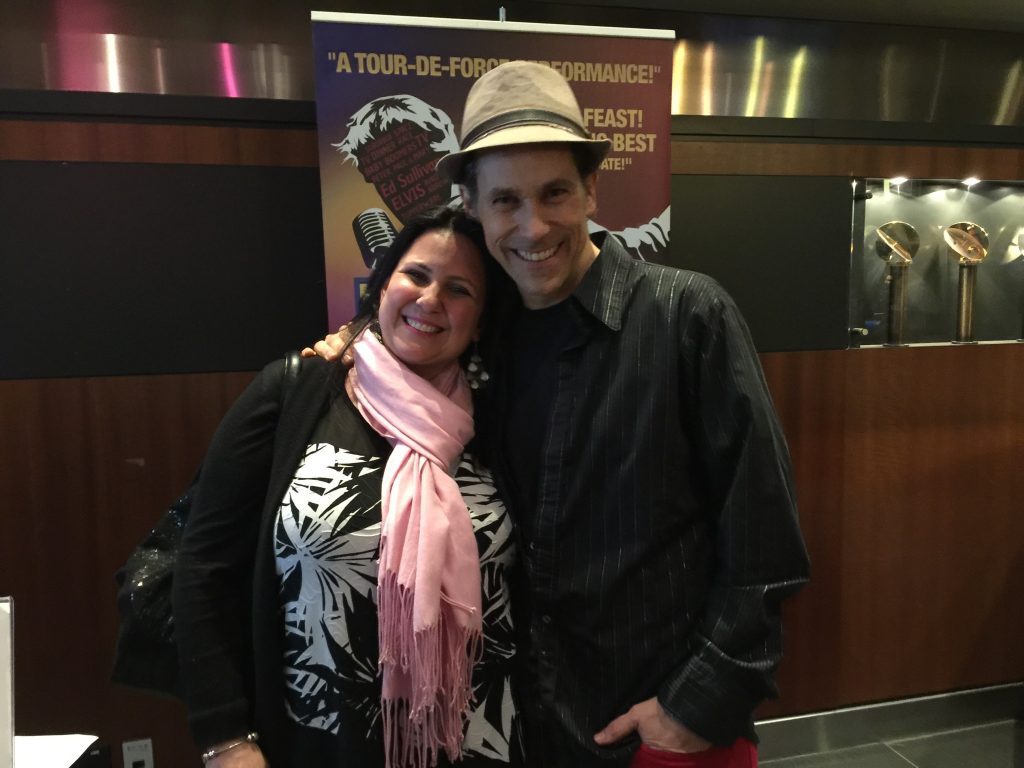 It was a great night, and I loved the show so much I actually wrote a post about it. You can read it here: BOOM AT THE SEGAL CENTRE – DO. NOT. MISS.
Overall, here's what I thought about all the product:
TruBLEND Foundation: It's actually good, goes on light & not too greasy, but I normally still use my powder foundation, because I find it faster because I don't have to wash my hands after applying.
TruNAKED EyeShadow: Phenomenal!!!  I have completely moved over to the TruNaked "Nudes" shadow palette.  I also used my liner brush to use the darker colours as eye-liner.  Perfect. I use the matte colours for daytime & add the glimmery shades for some night-time "glam"!
TruNAKED Eyeliner duo: I normally don't use a eyeliner (as in the pencil) I use my liner brush.  That said, I tested the pencil several times over the last month or so and I really liked it!  It's also a little faster than the liner-brush method

I also liked having both black & brown ( mocha) in one pencil!
TruBLEND Bronzer: The colour is excellent and it goes on evenly.  The only thing that I'm not crazy about is that I find it leaves a lot of 'stray powder' in my sink when I apply.
TruBLEND Blush: Again, the Medium Rose colour is perfect for me and goes on looking very natural but with a hint of glimmer which, I find adds a touch of glamour 😉 Although it still leaves 'stray powder' as well, I love it so much that I have used it too many times to count over the last month.
Plumpify Mascara: It's good and does make the lashes look thicker, great for an evening when you want to glam-it-up.  That said, when it comes to everyday, I won't be switching from my beloved Clump Crusher by COVERGIRL!!!

Oh Sugar Lip Balm in Punch: I used it on day one & liked the silky-smooth way that it went on…It also tasted 'punchy'! The colour was not so intense when it was on so I was able to live with it LOL, which is saying a lot because I really am NOT a fan of bright lipstick! As mentioned, last night I accidentally used the OUTLAST liptstick which looked fun & fresh but to be truthful, I had a hard time removing it when I got home:(  My favourite continues to be the COVERGIRL Smoochies I simply just LOVE THEM!!!
Tru BLEND Primer: I don't use primer on a daily basis so I only tried it out this past week.  It's thin so doesn't feel 'gloopy', which I like. Given that I didn't try it out more than twice I can't speak very well as to its impact on my makeup. I will use it again & keep you posted

Pantene Air Spray: I am embarrassed to tell you that I completely FORGOT to try this out!  I'm not a big hairspray user so I'm not SO surprised that I forgot, LOL. Update coming soon…likely via Instagram or Twitter 😉
I am SUPER excited to be giving away the following Red Carpet Ready Beauty Bundle which is valued at $85* which includes:
*Pricing is at the discretion of the retailer
In order to ENTER THE #PGmomGiveaway you must:
Leave a comment in the comments section of this post answering the following question: "Where would you wear your Red Carpet look? 
Correctly enter your email address as the winner will notified via email.
Add info(at)montrealmom.com to your contact list so that if you win, your notification will not go into your junk mail
Once you have entered by answering the question above in the comments section, Here's how you can get additional entries:
Follow @PGeverydayCA on Twitter (leave your Twitter handle in the comments section of this post)
Follow @montreal_mom on Twitter (leave your Twitter handle in the comments section of this post)
Tweet this giveaway by retweeting this post using #PGmomGiveaway (1 entry for every RT, you can tweet up to 2 times daily- please leave a link to each tweet in the comments section of this post)
Add montrealmom.com/blog to your RSS Feed (leave note in comments that you have done so, use same email address for both comment & RSS Feed)
Write about this giveaway on your blog/website and leave me a link to your post in the comments section (counts as 4 entries!)
Read any other post on the montrealmom.com blog and comment on it (please leave a comment on this post as to which post you read & commented on)

The giveaway ends at 11:59 PM on Thursday, March 31st, 2016.  Winner will be chosen at random and will be contacted via email on Friday, April 1st, 2016. Please make sure your email address is correctly entered in the comments section as the winner will notified via email. Winner must answer a skill-testing question before claiming prize. Open to Canadian residents only.

Any litigation respecting the conduct or organization of a publicity contest may be submitted to the Régie des alcools, des courses et des jeux for a ruling. Any litigation respecting the awarding of a prize may be submitted to the Régie only for the purpose of helping the parties reach a settlement 

P&G has only provided me with the product that I am using as the prizes for this contest.  The contest is not otherwise endorsed, designed and/or administered by or associated with P&G. By entering this contest you are accepting that, if you win, your contact information will be shared with a P&G PR and shipping agency for the purpose of mailing your prize.  Please allow 4-6 weeks from the contest closure date to receive your prize.

This giveaway may appear on other blogs as part of the #PGmom/#mamanPG program.  However, to be fair, you can only win once per giveaway.  If your name is chosen more than once, another winner will be selected. All winners must be from within Canada.
Good Luck with the Giveaway!
Tanya