Most of you already know that I am a Costco FANATIC

That's for a good reason: It's my one-stop shop to feed my family of 6 with great food including great produce in the quantities that we need and at prices that you won't find anywhere else.
In addition to the food, I buy clothing from Costco, furniture from Costco and we just bought & installed my new winter tires…at Costco!
I could, and should, make you a list of all of the fabulous finds at Costco, but the purpose of today's post is to share the news that Costco VAUDREUIL IS FINALLY OPENING UP on Friday October 16th!!!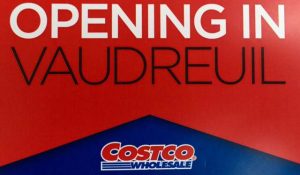 Not only will they have the fabulous departments we have come to know and love, including:
Photo Centre
Optical Centre
Tire Centre
Pharmacy
Fresh Food
Bakery
Deli
Food court
…but they will also have a GAS STATION!!!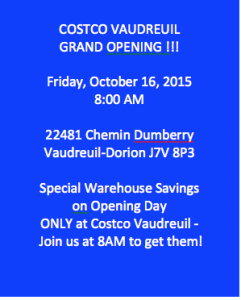 I can only imagine that the prices will be better than at our usual gas stations, but since I don't have a firm answer yet, you'll have to wait for opening day! If you can't make it that day, you will be able to follow me on Twitter & Instagram as I go through the new warehouse and share my finds 

 #CostcoVaudreuil

(Friday, October 16th beginning at 8AM)
If you are REALLY curious, I am also getting a SNEAK PEEK tomorrow (Wed. Oct 14) at 2PM – when I will share whatever I can 😉
If you are not yet a Costco member, you should know that you can go over to the store and sign up before that mad rush once the location officially opens!  There is a small office that is now open exactly for that reason

If you are already a member, you can bring a friend to sign up and you can each receive a $10 Costco Cash Card

If being part of the Grand Opening events isn't quite exciting enough, I am thrilled to be hosting a GIVEAWAY where one lucky reader will win a ONE YEAR COSTCO MEMBERSHIP (for any Costco in Canada) as well as a P&G Prize Pack including great travel-sized essentials!
Even if you're already a member…the holidays are coming up and wouldn't a one-year Costco membership make #ThePerfectGift?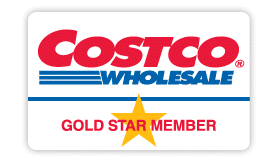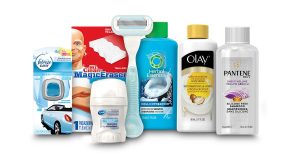 Here's How To Enter:
In order to ENTER THE #CostcoVaudreuil GIVEAWAY you must:
Leave a comment in the comments section of this post answering ONE of the following questions: "What is your favourite Costco find / purchase? "  –OR-  if you are not yet a member: "Why do you want to become a Costco Member?"
Correctly enter your email address as the winner will notified via email.
Add info(at)montrealmom.com to your contact list so that if you win, your notification will not go into your junk mail
Once you have entered by answering either of the questions above in the comments section, Here's how you can get additional entries:
Follow @costcocanada on Twitter (leave your Twitter handle in the comments section of this post)
Follow @PGeverydayCA on Twitter (leave your Twitter handle in the comments section of this post)
Follow @montreal_mom on Twitter (leave your Twitter handle in the comments section of this post)
Tweet this giveaway by retweeting this post using #CostcoVaudreuil (1 entry for every RT, you can tweet up to 2 times daily- please leave a link to each tweet in the comments section of this post)
Add montrealmom.com/blog to your RSS Feed (leave note in comments that you have done so, use same email address for both comment & RSS Feed)
Write about this giveaway on your blog/website and leave me a link to your post in the comments section (counts as 4 entries!)
Read any other post on the montrealmom.com blog and comment on it (please leave a comment on this post as to which post you read & commented on)
The giveaway ends at 11:59 PM on Monday, Oct. 19th, 2015.  Winner will be chosen at random and will be contacted via email on Tuesday, Oct 20, 2015. Please make sure your email address is correctly entered in the comments section as the winner will notified via email. Winner must answer a skill-testing question before claiming prize. Open to Canadian residents only.
Any litigation respecting the conduct or organization of a publicity contest may be submitted to the Régie des alcools, des courses et des jeux for a ruling. Any litigation respecting the awarding of a prize may be submitted to the Régie only for the purpose of helping the parties reach a settlement 
Costco and P&G have only provided me with the product that I am using as the prizes for this contest.  The contest is not otherwise endorsed, designed and/or administered by or associated with P&G and/or Costco. By entering this contest you are accepting that, if you win, your contact information will be shared with P&G & Costco PR and shipping agency(agencies) for the purpose of mailing your prize.  Please allow 4-6 weeks from the contest closure date to receive your prize.
Wishing you a fabulous day and good luck with the giveaway!
Tanya
Disclosure: I am a PGmom/mamanP&G blogger. As part of my affiliation with this group I received special access to Costco and compensation. The opinions on this blog are my own. You all know I am a HUGE Costco fan already