While I'll fully admit that Cinco de Mayo has not traditionally been in my repertoire of celebrated holidays, it's a great idea to jump on the bandwagon just for fun!
I mean, who wouldn't be happy for a little fiesta filled with bright colours, yummy eats and a festive atmosphere???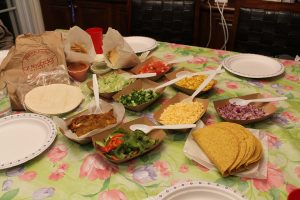 As many of you know, I recently had the chance to try out Quesada Home Edition for a Taco Night at Home, and I decided that Quesada is the "No Chop, One Stop, Taco & Burrito Shop!"
What a perfect meal to serve for Cinco De Mayo!  And if I don't have to worry about prepping dinner, I can focus on fun decorations and a cool desserts. Fabulous!
When I think of Cinco de Mayo, I think of bright festive colours and when I think of treats, often something frozen comes to mind.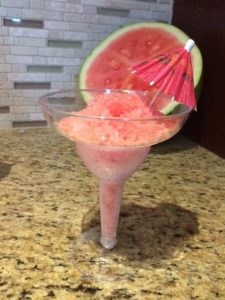 This Watermelon Granita Recipe is the PERFECT thing to make for Cinco de Mayo!!!
Before I even begin to share it, I would like to give full credit to the author of the original recipe: Susie Fishbein. I found it in her Passover by Design cookbook and my kids are absolutely addicted to it!  The recipe below may be worded somewhat differently & I may measure my watermelon in cups, but it's really based on Susie's recipe

Thank you Susie for this and so many other wonderful recipes that you have brought to our family's table!!
It's fun to eat, fun to make, and fabulously frosty to look at!
Here's what you'll need:
10-12 c. cubed watermelon
1 c. sugar
1/2 c. water
and the equipment shown in the photo

(Note: You can use a blender instead of a food processor)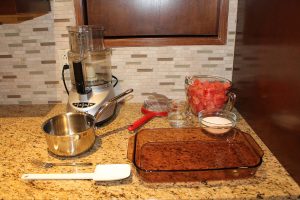 Place the sugar and water into a small saucepan. Mix together.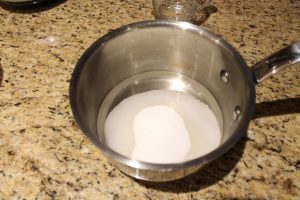 Bring to boil for two minutes
Remove from heat and allow to cool completely to run temperature.  You will have a simple syrup.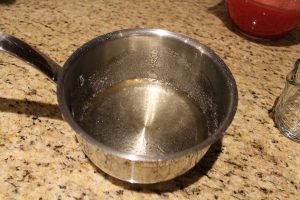 While it is cooling:
Place half of the Watermelon (You may need to do it in more, smaller batches, depending on the size of your processor)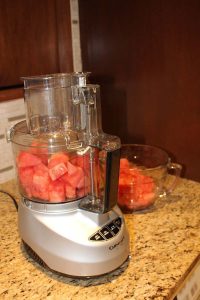 Process for 30 seconds or as long as it takes to turn it into juice.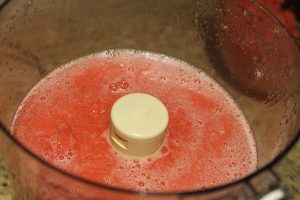 Strain the juice so that it is pulp-free. Repeat with remaining watermelon.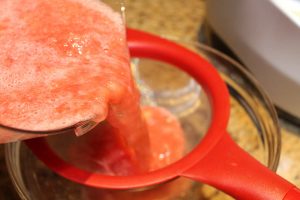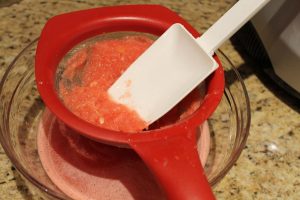 Remember that you can re-process the pulp to get a little more  juice out of it!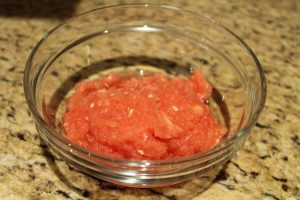 You want to be left with 4 cups of watermelon juice
Pour 1/3 c. of the syrup into a measuring cup (Reserve the rest for use at a later time)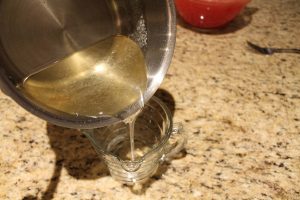 Add to watermelon juice, mix together.
Pour into glad baking dish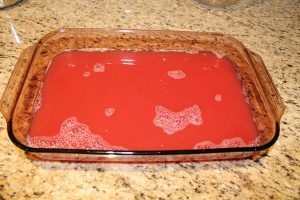 Place in freezer & set timer for 30 minutes.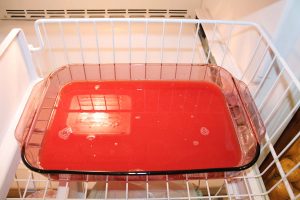 After 30 minutes, scrape the sides with a fork (some ice crystals will have formed) and mix back into juice, gently  Set the timer for another 30 minutes.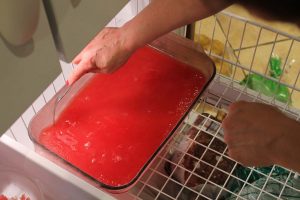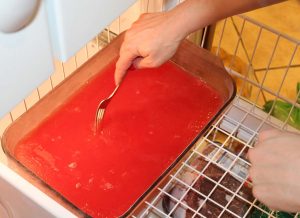 When 30 minutes have passed : Repeat.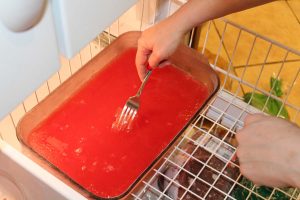 30 minutes later, repeat again

Keep doing the same thing every 30 minutes for about 2-3 more hours or until you are left with a more or less solid, yet scrape-able piece in the dish.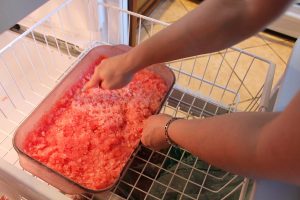 Scrape with the tines of a fork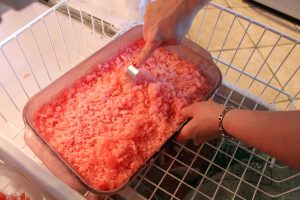 Check out the awesome texture!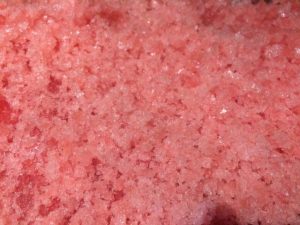 Scoop into margarita glasses or small glass serving bowls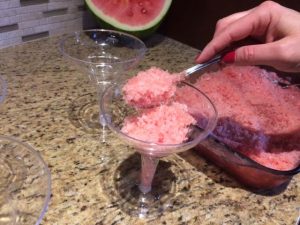 The Fabulous way to end your Fiesta Meal from Quesada on Cinco de Mayo!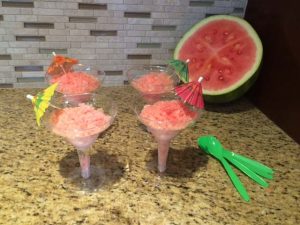 For more great ideas on Cinco de Mayo visit AskMamaMOE.com & PositivelyPatty.com
In order to ENTER THE #QuesadaCinco GIVEAWAY to WIN a gift card for a Quesada family meal (Home Edition- serves 4) you must:
Leave a comment in the comments section of this post answer the following question: "What does your family do to get into a festive mood?" 
Correctly enter your email address as the winner will notified via email.
Once you have entered by answering the question above in the comments section, Here's how you can get additional entries:
Follow @QuesadaBurritos on Twitter (leave your Twitter handle in the comments section of this post)
Follow @montreal_mom on Twitter (leave your Twitter handle in the comments section of this post)
Tweet this giveaway by retweeting this post using #QuesadaCinco (1 entry for every RT, you can tweet up to 2 times daily- please leave a link to each tweet in the comments section of this post)
Add montrealmom.com/blog to your RSS Feed (leave note in comments that you have done so, use same email address for both comment & RSS Feed)
Write about this giveaway on your blog/website and leave me a link to your post in the comments section (counts as 4 entries!)
Read any other post on the montrealmom.com blog and comment on it (please leave a comment on this post as to which post you read & commented on)
The giveaway ends at 11:59 PM on Monday, May 4, 2015.  Winner will be chosen at random and will be contacted via email on Tuesday, May 5, 2015. Please make sure your email address is correctly entered in the comments section as the winner will notified via email. Winner must answer a skill-testing question before claiming prize. Open to Canadian residents only.
Any litigation respecting the conduct or organization of a publicity contest may be submitted to the Régie des alcools, des courses et des jeux for a ruling. Any litigation respecting the awarding of a prize may be submitted to the Régie only for the purpose of helping the parties reach a settlement.
Wishing you a festive night!
Tanya