This summer, I had the privilege of meeting with a team from Bugaboo who gave me a "crash course" in the product line.
I was really happy about this because to be honest, although I have seen Bugaboo 'on the road' and have heard A LOT of buzz about the brand, I hadn't really stopped to take the time to get acquainted with it.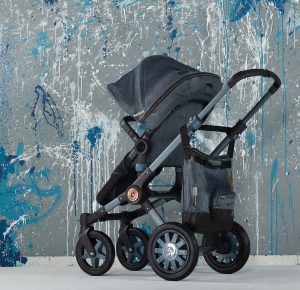 Well…let's just say that I would have LOVED to own a Bugaboo 14 years ago when I had my first baby

The reason lies simply in all of the qualities I feel are important in a stroller, that I found in the Bugaboo:
Comfortable for baby
Seat wide enough to accommodate a larger baby in a snowsuit
Infant car seat ("bucket") compatible
Bassinet option so Mom can realize the "romantic" vision of pushing baby in "Pram" / "Carriage" style
Mom has option of baby facing Mom or outside world so that:

Mom can baby-gaze at will
Baby still has the option of viewing and exploring the world around
On windier days, Mom can control which way baby faces to avoid wind in baby's face

Handle bar raises higher or lower to accommodate the 'pusher'.  Easier on back, shoulders, etc. – also, Mom and Dad are often different heights 😉
Wheels that are big enough to navigate Montreal streets & sidewalks in winter. (I fell in love with the Bugaboo Buffalo's massive wheels!)
A smooth-glide-ride
Under-stroller STORAGE
Storage for Mom's coffee cup / water bottle, phone (So many accessories to customize your Bugaboo!)
Ability to hang diaper bag without risk of tipping
Ability to pass down to future children -i.e. durable and not too girly or boy-ish. (Did you know you can switch up the fabrics if you want to just 'refresh' between kids???)
Sunshade that gives awesome coverage, especially since baby gets no sunscreen in the early months…
Easy to close, ideally with one hand
Not-too-heavy as stroller will be taken in & out of the trunk countless times
Readily available compatible accessories that make sense: rain cover, bunting bag, etc…
Washable fabric/seat cover because accidents happen…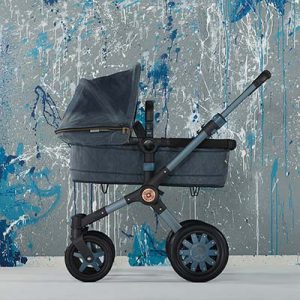 I was among the first in Canada to see the Buffalo in the Diesel and I was smitten! (Especially at the sight of my gorgeous baby nephew trying it out for size 😉 ) Not only was I blown away by how it met all of the above criteria and then some, but the lightly paint-splattered Denim was just 'perfectly imperfect' and I could not get over the "rivets" in all of the right places. They are just…riveting. 😉
SMITTEN.
I also had a chance to see the Runner and the Bee.  I see the Bee as more of an "urban" stroller – the kind that seems to be exceptionally popular these days. The Van Gogh fabric that I saw was not only beautiful but unique. (You can see the print on the pic of the Bee at the bottom of the post)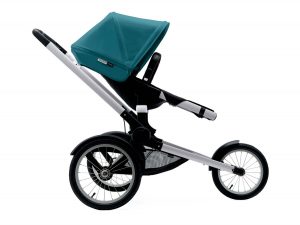 The runner can be bought as a complete stroller unit or you can buy just the "chassis" and click in your seat from your Bee, Buffalo, Chameleon or Donkey.
(Check the Bugaboo website for specific requirements/information).
I have to share that one of the things that really struck me was the fact that my husband & I (and SO many couples) did not just buy one stroller for our first child. We bought:
our main 'travel system' stroller
a stroller with a bassinet that could face us, lying down, especially for when she was an infant,
a 'cheap' umbrella stroller for the times that called for something less 'clunky'.
Had the Bugaboo been available during our time, we'd have no reason to purchase the second stroller for the baby to face us, and I suspect that its sleek frame would have been preferable to any umbrella stroller.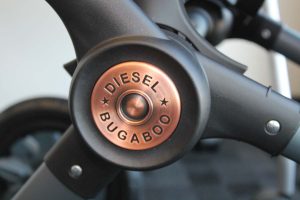 Had the Bugaboo been around back then, it would not have only been my DREAM stroller system, but would have been a financially savvy choice.
When we had the twins we got a double stroller and Bugaboo or not, I supposed we'd have needed a double stroller.  That said when we had Number Four, our original stroller was quite 'worn' and we ended up buying a new car-seat compatible stroller.
Again, given the durability of the Bugaboo, that would not have likely have happened- maybe just a "fabric refresh' purchase

Did I mention that we also used to borrow a jogger for beach vacations because it was better for the beach (lousy at the mall though!) With a Bugaboo, we may or may not have borrowed a jogger, but could have had the runner chassis to use with our regular seat!
So what is that, over the span of our stroller-pushing years? 5 'single' strollers? That's not only a lot of $$, but also a lot of storage space.
The crazy thing is – we are not the only family who has done this.  I know several families who have 5, 6 even 7 strollers!
In addition, due to the fact that it is so durable, it can be passed down to friends or family or even resold!  Yes…Did you know that Bugaboos have an incredible resale value?  Give a little search on Kijiji and you'll see what I'm talking about! So after umpteen years of use, you can sell your Bugaboo for cash towards….Anything!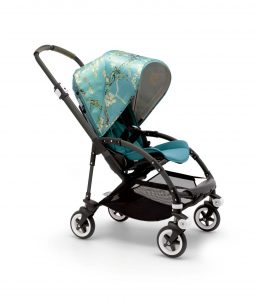 Needless to say.  I am impressed with the Bugaboo line and I am THRILLED to be teaming up with Bugaboo to GIVE AWAY a Bugaboo Bee (in the Gorgeous Van Gogh Print!!) to one lucky montrealmom.com reader!
In order to ENTER THE #BugabooBee GIVEAWAY you must:
Leave a comment in the comments section of this post answering the following question: "What is the most important feature you are looking for in a stroller? "  
Correctly enter your email address as the winner will notified via email.
Add info(at)montrealmom.com to your contact list so that if you win, your notification will not go into your junk mail
Once you have entered by answering the question above in the comments section, Here's how you can get additional entries:
Follow @Bugaboo on Twitter (leave your Twitter handle in the comments section of this post)
Follow @montreal_mom on Twitter (leave your Twitter handle in the comments section of this post)
Tweet this giveaway by retweeting this post using #BugabooBee (1 entry for every RT, you can tweet up to 2 times daily- please leave a link to each tweet in the comments section of this post)
Add montrealmom.com/blog to your RSS Feed (leave note in comments that you have done so, use same email address for both comment & RSS Feed)
Write about this giveaway on your blog/website and leave me a link to your post in the comments section (counts as 4 entries!)
Read any other post on the montrealmom.com blog and comment on it (please leave a comment on this post as to which post you read & commented on)
The giveaway ends at 11:59 PM on Thursday, November 12th, 2015.  Winner will be chosen at random and will be contacted via email on Wednesday, November 18th, 2015. Please make sure your email address is correctly entered in the comments section as the winner will notified via email. Winner must answer a skill-testing question before claiming prize. Open to Canadian residents only.
Any litigation respecting the conduct or organization of a publicity contest may be submitted to the Régie des alcools, des courses et des jeux for a ruling. Any litigation respecting the awarding of a prize may be submitted to the Régie only for the purpose of helping the parties reach a settlement 
Bugaboo has only provided me with the product that I am using as the prize for this contest.  The contest is not otherwise endorsed, designed and/or administered by or associated with Bugaboo. By entering this contest you are accepting that, if you win, your contact information will be shared with Bugaboo PR and shipping agency(agencies) for the purpose of mailing your prize.  Please allow 4-6 weeks from the contest closure date to receive your prize.
Wishing you a fabulous day and good luck with the giveaway!
Tanya
Disclosure: I was the lucky recipient of some beautiful Bugaboo accessories as a Thank You for conducting this giveaway. As always, I will only ever share with you products and/or services I believe in. All opinions contained within are my own and cannot be bought